LEVELS OF CERTIFICATION
We offer certification of natural, natural with organic portion and organic product from section of cosmetics, cleansing products and fragrances, based on ECOGEA standard.
There are three levels of certification. Specific conditions have to be met for a product to be included in one of three categories: natural, natural-organic (natural with organic portion) and organic. The composition of each product is checked in detail during the certification process.
Water is considered as being a natural-mineral ingredient and as such, it cannot be calculated as organic. Only physically processed and chemically processed natural ingredients from an agricultural source can be certified organic. To be considered as organic or with organic content each ingredient must be certified at an accredited certification body. Ingredients from an agricultural source are any plant, animal, or microbial product derived from agriculture, aquaculture, or is collected/harvested in wild.
Important note! Some synthetic or natural identical ingredients might be allowed in the products certified as natural, natural-organic, or organic due to environmental, economic, and regulatory circumstances.  All ingredients are clearly marked on the product labels distinguishing them between synthetic, natural* or organic**.
ECOGEA does not allow the use of:
Ingredients obtained from living or dead animals, unless naturally produced by them, such as honey, beeswax, milk, etc
Use of mineral oil and silicones in products certified as organic
Hazardous synthetic ingredients
Nanomaterials (until proven safe)
Genetically modified organisms (GMOs)
Gamma and X-ray irradiation
Animal testing
Please refer to the standard for natural and organic cosmetics for further details.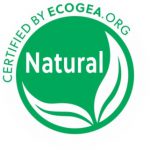 Composition rule summary:
Minimum 75 % of natural ingredients required.
No minimum organic % of processed natural ingredients from agricultural source (physically and/or chemically) is required but is highly recommended.
Strict limitation regarding synthetic additives with no natural alternatives or different regulatory limitations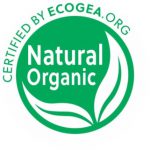 Composition rule summary:
Minimum 85 % of natural ingredients required.
Minimum 2,5 % – 25 % of processed natural ingredients from organic agricultural source (physically and/or chemically), depending on a product category is required
Very strict limitation regarding synthetic additives with no natural alternatives or different regulatory limitations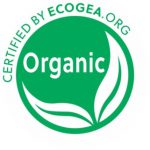 Composition rule summary:
Minimum 95 % of natural ingredients required.
Minimum 10 % – 100 % of processed natural ingredients from organic agricultural source (physically and/or chemically), depending on a product category is required
Very strict limitation regarding synthetic additives with no natural alternatives or different regulatory limitations